In times where the thinking heads of brands last only a few seasons, the so-called kaiser of fashion (Hamburg 1938), in reference to his German origin and his leadership skills, Karl Lagerfeld, left us in 2019 at the age of 85, without stopping to work a single day, consolidating her myth as an incombustible icon of the fashion world.
Who was Karl Lagerfeld?
Karl Lagerfeld was one of the most famous and respected couturiers of the second half of the 20th century. Born in Germany, specifically in Hamburg, in September 1933, he died in the French town of Neuilly-sur-Seine.
Lagerfeld went to Paris in 1953, and in 1955 he landed a position at the prestigious fashion house Pierre Balmain after winning a coat design competition. In this contest, sponsored by the International Wool Secretariat, she coincided with Yves Saint Laurent. 
Three years later, Lagerfeld was appointed artistic director of Jean Patou and in 1964 he went to Rome to work for Titian. He didn't last long, as he soon became a kind of freelancer, working for houses like Valentino, Chlóe or Krizia. In 1967 Fendi hired his services to give a more modern look to his fur line, a house that he would not abandon until his death, even though he worked for others who gave him greater fame. Specifically, Chanel.

Also read: 8 Fashion designers who set international trends
How did Karl Lagerfeld become famous?
The designer Karl Lagerfeld achieved fame when he began working for one of the most iconic fashion houses in history. In 1983, he became the designer of Chanel. Since then, he also participated as a designer for other houses, in addition to founding his own brand, Karl Lagerfeld. With it, in addition to clothing, he launched several lines of perfumes. He even created a capsule collection in 2004 for the fashion multinational H&M. 
His figure has been highly controversial throughout his career, not so much because of his proposals, which never worked on provocation or excessive avant-garde, but because of his personality, his controversial statements on various topics, and a lot of personal eccentricities that have been generating love and hate in equal parts.
But despite everything, including accusations of misogyny, fashion owes a lot to Lagerfeld. The survival of Haute Couture and the reinvention of the world of luxury are, without a doubt, two of the topics where the German stood out. A multifaceted creative, he was his own photographer for many of his campaigns, while also building the most exquisite and cinematic sets.
 Although he adored luxury, he famously said: "I never use the word cheap. (..).You can be the most stylish person in the world with just a T-shirt and jeans, the differentiating factor is you."
In fact, his personal style shaped the DNA of most of his proposals (black and white color, his white shirt with a rigid macro collar, his cameo-like profile, his cat Chupette, his sunglasses, etc.) becoming a King Midas for business, the perfect creative to make fashion brands earn a lot of money.
His passion for beauty and the frivolity of fashion was latent, and his weight loss, 42 kg, to "fit" as he himself said in one of the suits that Hedi Slimane presented for Dior Homme in 2000, is legendary. revolutionizing the male silhouette.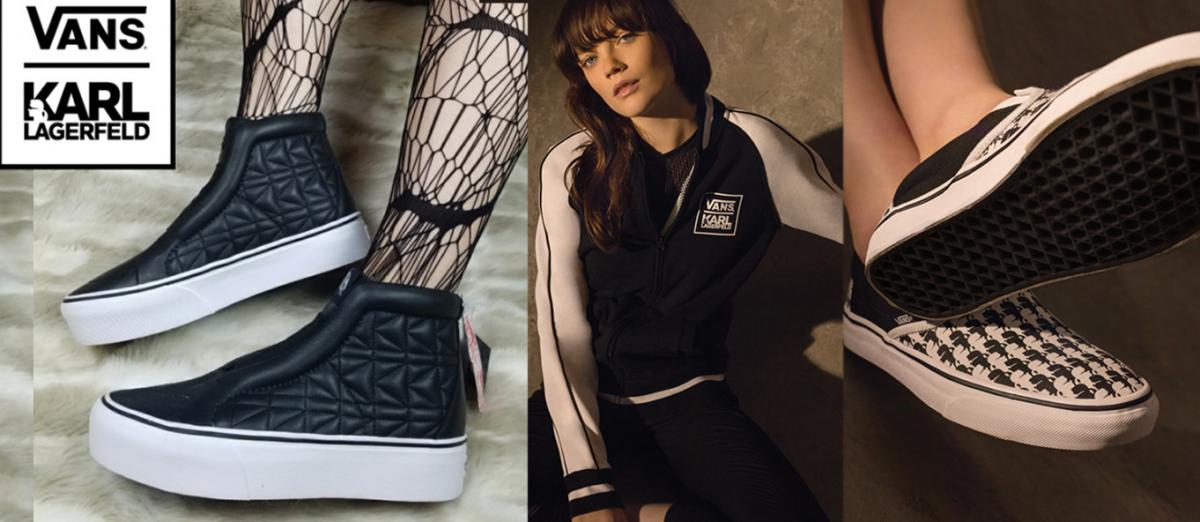 Images of Karl Lagerfeld's collaboration with the Street Wear brand VANS
Also read: Discover the 5 Best Fashion Shows from Around the World
Her iconic time at Chanel
When Karl Lagerfeld joined Chanel, around ten years had passed since the death of its founder, Coco Chanel. Since then, the house had gone into decline. To such an extent that many already thought she was dead. But Lagerfeld managed to revive it, at the same time as his name grew in the world of fashion. 
To ensure that Chanel returned to occupy the place it had when Cocó lived, Lagerfeld maintained its style and characteristic lines, but renewing them. She did it to such an extent that her designs became timeless. Above all, the jacket that had become a trademark of the house since the mid-1950s. After passing through Lagerfeld's hands, the jacket was adapted to all kinds of looks and combinations. 
In addition, it introduced its logo with the double letter C, the gold chains and the camellia as unmistakable characteristics of the Chanel house. 
In fact, she reinvented all the details that arose from the designer's mind but that had to continue generating novelty and, above all, desire. Accused of plagiarizing Coco by all his enemies, Lagerfeld filmed an imaginary short in 2015 wherein an imaginary conversation with her, she reproaches him that his only merit had been to copy her, saying: "What do you think you're doing?…", to to which he answers: "Keep you alive."
The brand ended 2018 earning 8,000 million euros. Coco's heirs continue to be the owners, moving away from the conglomerates of the luxury giants, and above all Lagerfeld managed to ensure that Chanel remains the best-known brand in the world.
Also read: What do you need to be a fashion designer?
Lagerfeld's 5 most iconic designs
In addition to the renovation of the Chanel jacket, Lagerfeld designed several pieces that have become part of fashion history. Among these Karl Lagerfeld designs there is a swimsuit with water with bubbles coming out of the front. Also, a car-shaped dress, which even includes a radiator grill and a bumper. 
Among the custom collections for artists and personalities, the pieces he designed and made for Madonna's sixth world tour stand out. All the costumes he created for her were inspired by carnivals. Of course, not to forget Chanel's iconic tweet suit. 
What did Karl Lagerfeld die from?
The death of Karl Lagerfeld, at the age of 85, occurred as a result of pancreatic cancer, which he kept almost completely secret until the day he died. Even a good part of his closest circle of friends did not know about his illness until after his death. 
Lagerfeld apparently lived in constant denial of his illness. Among other reasons, he was afraid of both hospitals and the disease. Karl Lagerfeld, during his lifetime, told practically no one what he had, hence the confusion surrounding his last days. He did not arouse many suspicions until almost a month before his death when he did not attend the last Chanel show, which he never missed. So, the official version was that he was tired, but he was already facing his last days. 
Also read: 10 Tips for buying and choosing New Clothes
The MET Gala 2023 tribute to Karl Lagerfeld
In the next edition of the MET Gala in New York this year 2023 will pay tribute to Karl Lagerfeld. Therefore, its theme will be Karl Lagerfeld: A line of beauty. It is likely, therefore, that there will be several guests who wear Karl Lagerfeld designs to come to her. It will be held, like every edition, on the first Monday of the month of May. This time, May 1. Penélope Cruz, who became one of Lagerfeld's muses in the later years of his career, will be one of his hosts.
The gala will take place while the MET is hosting an exhibition of the designer's work, which has the same title as this year's gala. In it, which will open its doors before the gala, the relationship between the designer's sketches and his creations is analyzed. In addition, around 150 designs by Balmain, Patou, Chloé, Fendi, Chanel and Karl Lagerfeld will be exhibited in the five rooms of the Metropolitan Museum in New York that will be dedicated to it. Each garment will be displayed with its sketch.
It is undeniable that Lagerfeld, as many media outlets point out, has been one of the most influential people of the 21st century.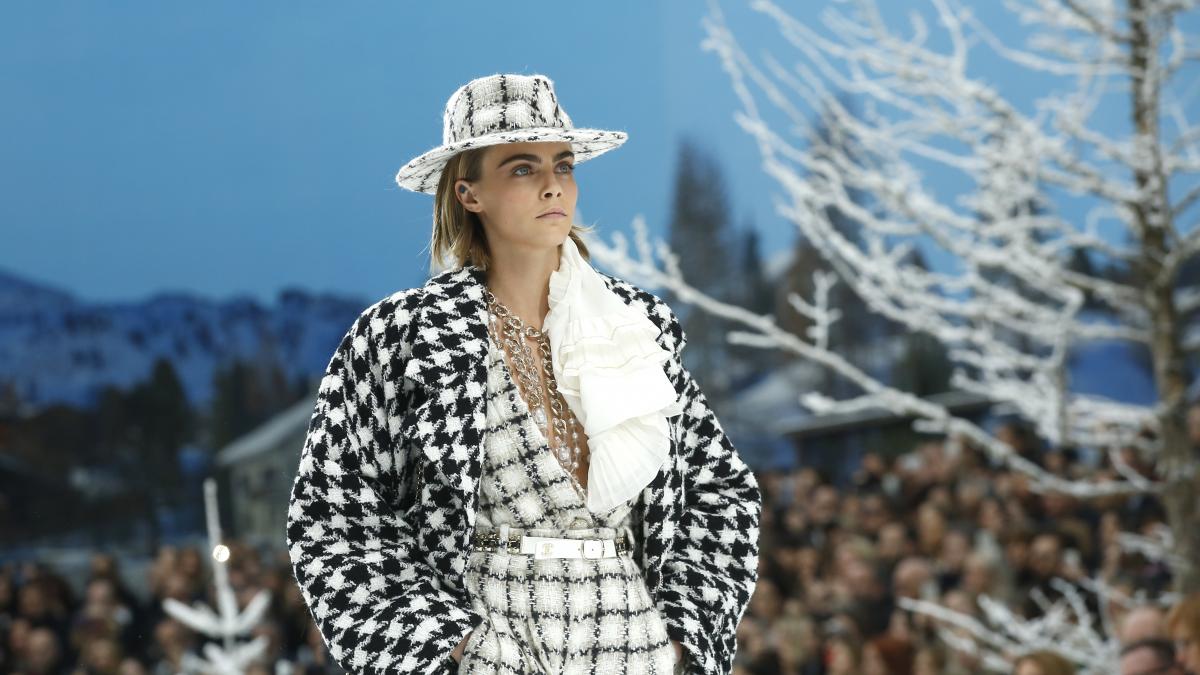 Cara Delevingne, one of his favorite models in the Ready-to-wear Fall Winter 19/20 show held this week in Paris, with Lagerfeld already deceased. Some of her muses such as Penelope Cruz and Kristen Stewart also paraded in her honor.