The Beige Color Is Perceptive, Cozy And Sensitive According To The Psychology Of Color In Clothing, And Therefore Whoever Uses This Color Will Be Perceptive Of These Qualities. Beige Pants Provide Many Options To Combine Them With All The Items In The Wardrobe, Such As Your Favorite Shirts, A Comfortable T-shirt, A Sweater In Winter, Or A Blouse To Be More Sophisticated. Combination With Beige Pants Is A Very Good Choice For Your Day Looks, Offering Another Alternative To Jean.
How To Wear Pants: Beige For Women
The Beige Pants In All Its Cuts And Styles; It Is Practical When Combined With T-shirts, Shirts, Sweaters, Blazers, Covers And Playing With Colors And Prints. Ideal For Summer Sandals. A Very Territorial Color That Will Make Your Style Have A Certain Charm. Below We Illustrate How To Combine Beige Pants With The Garments You Have On Hand In Your Wardrobe. Whether For Your Daily Work, In The Office Or Business, To Take The Kids To School, For Your Weekend Getaway, For A Meeting With Friends, For A Family Meal Or Whereever You Want To Go.
Outfit With Beige Pants And Blazer
Combining Beige Pants With A Blazzer Of The Same Color Allows You To Add Originality To The Look If You Add A White T-shirt And Black Sneakers. It Is A Simple And Classic Outfit To Go To Work. For Accessories We Opted For A Thin And Subtle Silver Bracelet.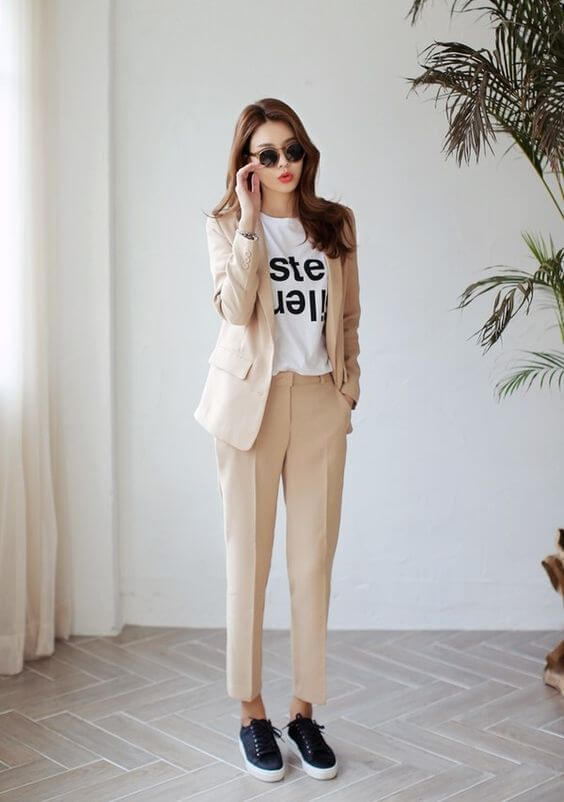 Outfit With Beige Pants And White Shirt
This Outfit Is Composed Of A Combination Of Camel Pants With Side Pockets, A White Long-sleeved Shirt, On The Shoes, Closed Toe Wedge Sandals Laced At The Ankle; To Complete The Look A Brown Handbag And A White Scarf With Arabescos.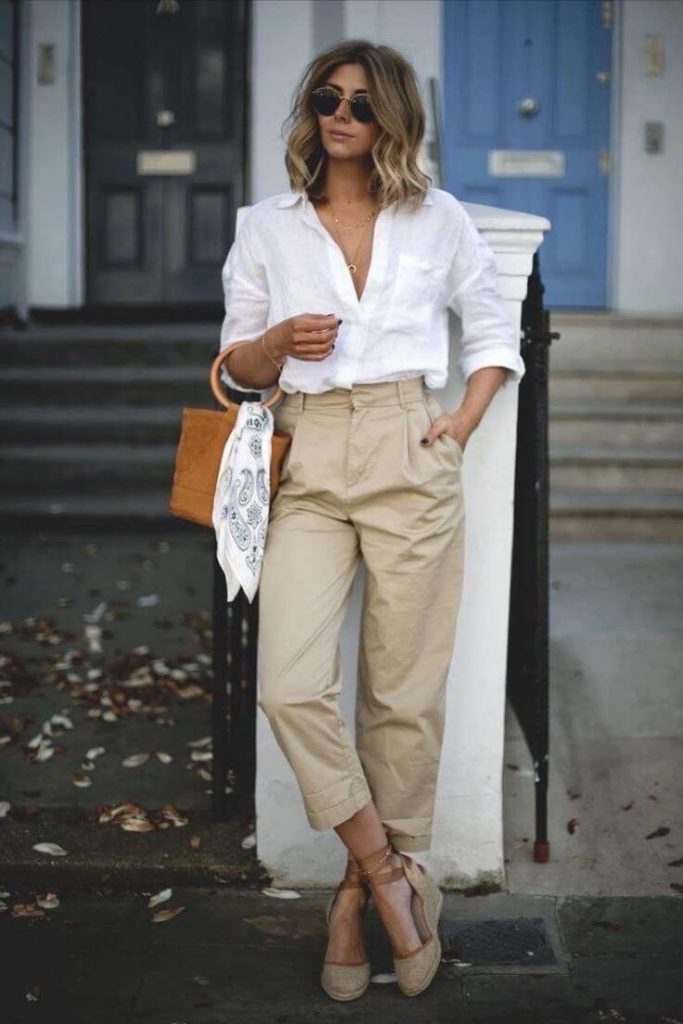 Outfit With Beige Pants And Burgundy Shirt
Combine Beige Pants With A Purple Shirt For A Formal And Elegant Look. Finish This Simple Style With Shoes That Show Your Foot As Much As Possible, Such As Stilettos; A Small Belt And A Girl Wallet In Brown Tones In Accessories. For The Accessories Some Circular Earrings, A Pendant And Bracelets. With This Outfit You Feel Cute To Go To The Office.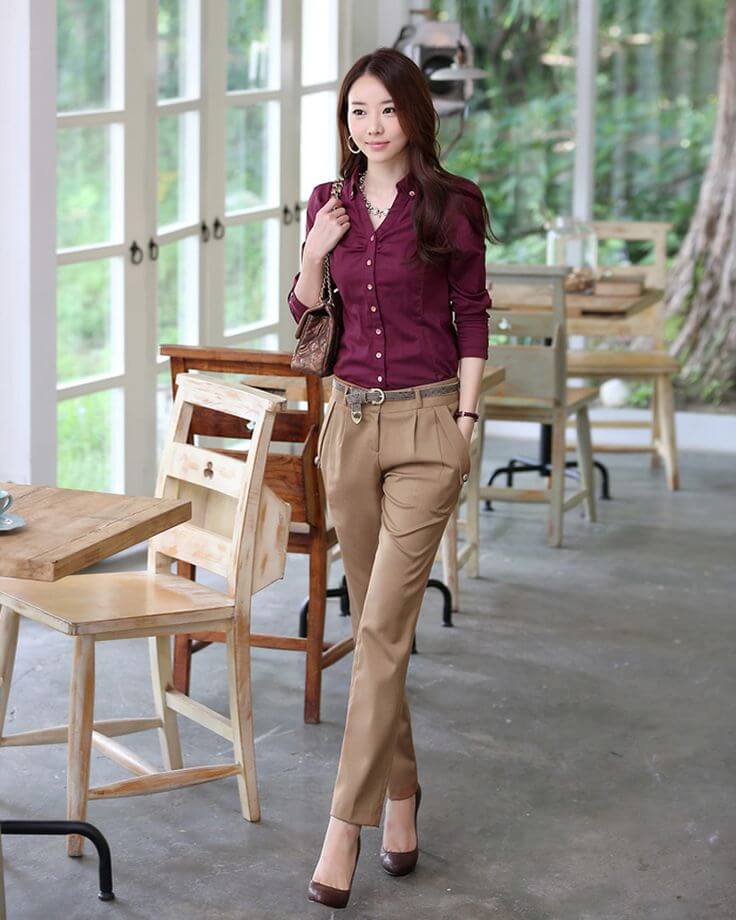 Outfit With Blue White Pants And Jacket
For The Days You Want To Look Cute And Professional Option For A Tight Light Beige Pants. To Which You Can Add A Plain Light Blue Shirt, With Which You Can Combine A Blue Hip-cut Coat. Finishing This Style, On The Feet I Chose Low Brown Ankle Boots. For Accessories, A Thin Brown Leather Belt And A Large Military Green Wallet.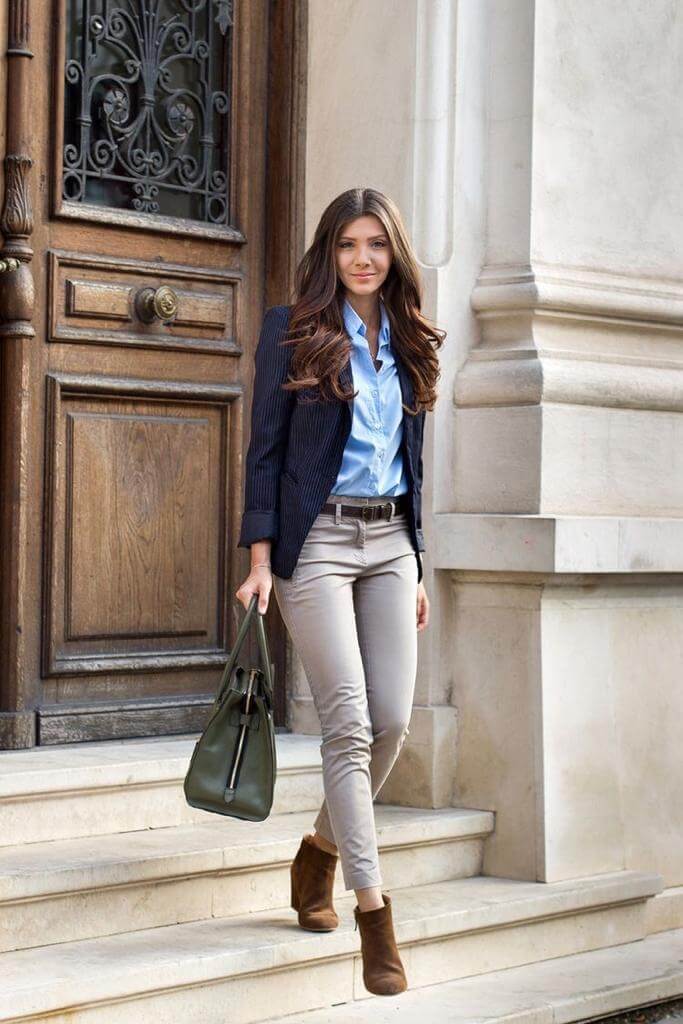 Outfit With Beige Pants And Black T-shirt
This Outfit Is Composed Of A Combination Of Camel Pants With Side Pockets, A White Long-sleeved Shirt, On The Shoes, Closed Toe Wedge Sandals Laced At The Ankle; To Complete The Look A Brown Handbag And A White Scarf With Arabescos.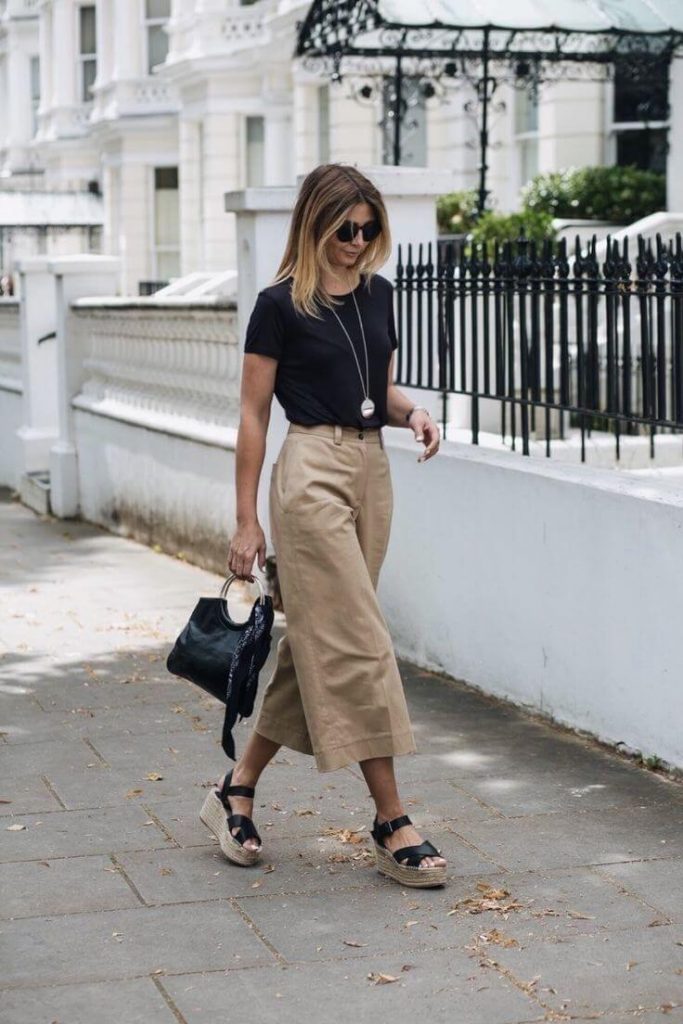 How To Combine Women's Beige Pants
Combining Beige Pants In Summer Is Extremely Easy, And Can Be Achieved With Wardrobe Basics. It Is As Simple As Wearing The Beige Pants With Black Or White T-shirts And Applying The Accessories You Want To The Outfit As A Final Point. Then To Sum Up, Combine Your Beige Pants In Summer With White Or Black Blouses, Shirts, T-shirts Or Muscles.
To Achieve A Formal Outfit With Beige Summer Pants You Can Use Formal Accessories, Such As High-heel Shoes, Stilleto Type, Sandals Or Mules. If They Can Be The Color Of The T-shirt Or Combine The Light Brown With White Or Black Better !
If On The Other Hand, Your Intention Is To Achieve A Casual Outfit With Beige Pants Or Simply Feel Comfortable, Trust Your High Sandals, Eyelets Or The Footwear That Is Most Comfortable For You, Such As Sneakers Or Flats. The Versatility Of Style Will Make You Look Amazing Even With The Most Comfortable Purse And Shoes You Have In Your Wardrobe.
What Shoes To Wear Beige Pants With?
When Choosing A Type Of Shoe To Combine A Beige Pants, We Can Emphasize That The Options Are Many And Very Varied. The Choice Will Depend On The Style You Want To Create And The Items With Which You Want To Combine Beige Pants. Below We Show You 5 Classic And Elegant Shoes With Which You Would Use It And Generate A Magnificent Look With Beige Pants.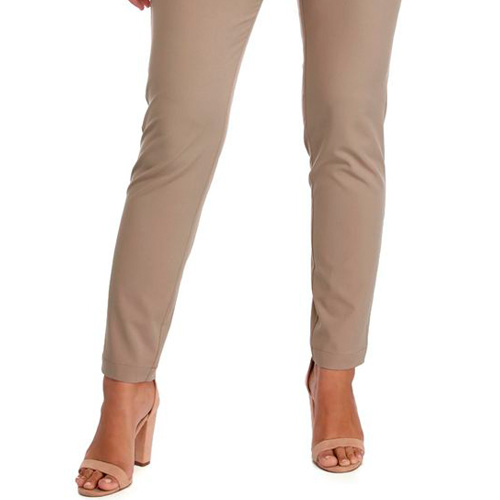 Nude Sandals Are A Classic In Any Look And Wearing Them With Beige Pants Is No Exception.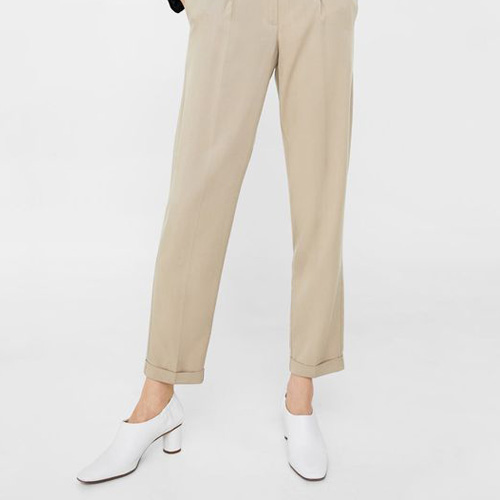 For A Formal Look And At The Same Time Original, You Can Combine Beige Pants With White Closed Shoes.
Best Clothes To Wear With Beige Pants
We Approach Iconic Trendy Garments With Which You Can Combine Gray Pants In A Unique Way. There Are Different Options That You Can Use Both Day And Night, Such As To Go To Work, To A School Meeting, A Date Or A Weekend Outing. And They Can Go Perfectly With Any Of The Types Of Shoes We Saw Above.
Violet Blouse With Wide Sleeves
For An Energetic Look Full Of Light And Color, Infallible For Any Occasion That Gives You A Different Touch To Your Styling. A Color That Is Very Favoring To Cold Skin.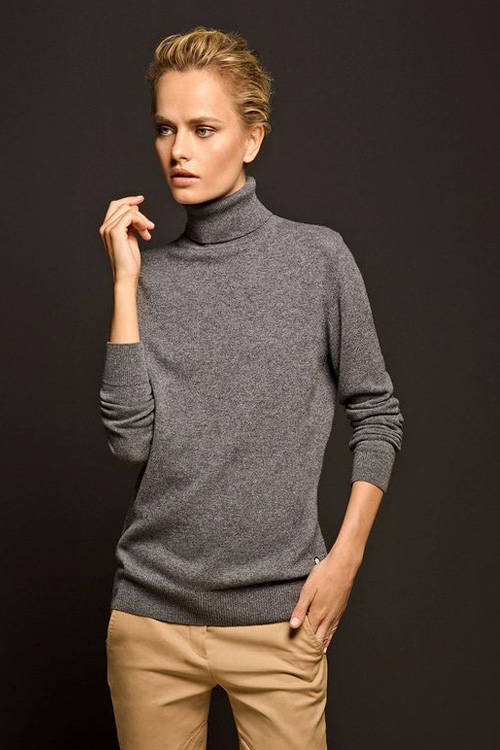 Gray Shirt Type Sweater
Generate A Classic And Sober Style By Combining Beige Pants With A Gray Sweater T-shirt, Which Will Save You On Winter Days.